Brinno TLC120 Time Lapse Camera
Brinno TLC120 Time Lapse Camera
Brinno TLC120 Time Lapse Camera
$369.00
$299.00 (inc GST)
$335.45 $271.82 (exc GST)
Product Description

The TLC120 Time Lapse Camera bring your profession to the next level
The TLC120 is a small yet powerful time lapse camera that turns your creation process into a short video. The pocketable size makes every location a creative moment. Up to 20 days of battery life with only a single charge. Brighten the defective of light with HDR sensor, and a customizable Brinno App. TLC120 produce a complete time lapse video without editing. It is designed to help your storytelling better.
Small and Pocketable!
Experience the simplest time lapse camera, explore any project you want to record. Capturing and sharing time lapse videos has never been easier. Instant Time Lapse, Instant Sharing, Instant Fun.
| | | |
| --- | --- | --- |
| 20 day Battery Life | HDR Time Lapse | BLE + Wi-Fi |
Brinno HDR Time Lapse Video 1, 2, 3, Solution
| | | |
| --- | --- | --- |
| 1. Power On | 2. Shoot | 3. Done |
Brinno Camera App
Quick, easy setup, turn on Brinno TLC120 and download the Brinno Camera APP to get started. Turn your mobile devices into a remote control! Super Easy to frame your subject remotely.
Wi-Fi Functionality and Controls
3 different connection options:
Wi-Fi app – Connect the Brinno TLC120 with Brinno Camera app directly.
Wi-Fi Hotspot (router). Connect the Brinno TLC120 with Brinno Camera App through the same router.
Wi-Fi Hotspot (phone) Connect the Brinno TLC120 with the Brinno Camera App through a mobile device hotspot.
One button operation, easy to create your own time lapse video in any light!
High performance HDR video sensor with Pixel Size 4.2μm, no complicated set up, which helps to capture great shots/time lapse videos with high contrast in any light!
HDR video sensor creates the Time Lapse Videos perfectly, no details missed.
Brinno TLC120's HDR video sensor features a High Dynamic Range and good low light performance. The HDR suppresses blown highlights and blocked shadows for crisper, clearer time lapse videos. With HDR you can maintain gradation in your videos in difficult shooting situation, like when your subject is back-lit.
IPX4 Splashproof & weather resistant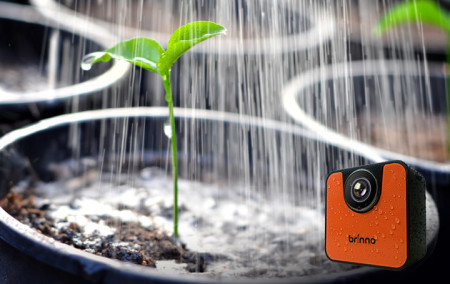 Wi-Fi and Bluetooth Remotely Controlled Brinno Camera APP
With Brinno Wireless Bluetooth App Control, you can adjust camera settings by using your smartphone to take photos, videos and more. Brinno Camera APP allows full control over the camera's settings and allow you to instantly share your images and videos without having to put it through the computer!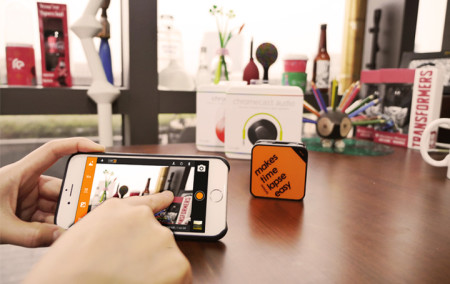 Product Videos
Brinno TLC120 & Brinno Camera app demo video (EN)
03:47
Brinno makes Time Lapse Easy! A whole new concept for daily photo/video recording! Turn it on and let it recording anything! The Brinno TLC120 is a dedicated time lapse camera and its portable design lets you capture everything happening around your life from any angle. Instantly sharing the unlimited creativity videos with your family and friends. More information about TLC120: http://www.brinno.com/time-lapse-camera/TLC120 Brinno Camera app download (Android) https://play.google.com/store/apps/details?id=com.aisworld.tlc Brinno Camera app download (iOS) https://itunes.apple.com/tw/app/brinnocamera/id993087310?mt=8
Brinno TLC120 ...

Brinno makes Time Lapse Easy! A whole new concept for daily ph...

[Brinno Tutori...

Brinno makes Time Lapse Easy! A whole new concept for daily ph...
Technical Specs
TLC120
Product name
Wi-Fi TimeLapse Camera TLC120
Model No.
TLC120
Splashproof
IPX4
Image Sensor

1/3" HDR Image Sensor
Dynamic Range 115 db
Pixel Size 4.2μm
Sensitivity3650mV/lux-sec (Ultra good low light quality)

Optics Lens

Low Distortion Fixed Aspherical Lens
Aperture: F2.0
Field of View: 112°
FocalLength 19 mm (35mm equivalent)

Video Format
AVI(1280x720 Resolution)
Shooting Setting

Scene:Daylight, Twilight, Night, Moon, Star
White Balance: Auto, Day, Shade, Cloudy, Fluorescent Light (Cool), Fluorescent Light (Warm), Tungsten Light
Custom Image: Exposure, Saturation, Contrast, Sharpness

Memory Storage
SD / SDHC Card (Supported up to 32 GB)
Power Source
Li-Po Rechargeable Battery (1500mAh)DC IN: 5V (Micro USB Connector)
Battery Life
1.5 days with a 2 seconds time interval20 days with a 5 minutes time interval
Wireless
Wi-Fi (802.11 b/g/n), Bluetooth 4.0 (BLE)
Brinno App
Android 4.4 / iOS 7.0 above
Camera Size
60x60x33.5 mm
Camera Weight
101 g
Color
Black, Orange
Package contents

HDR Time Lapse Camera (TLC120)
8GB SD card
Micro USB cable
Quick guide

Operation temperature
0-40°C
Find Similar Products by Category